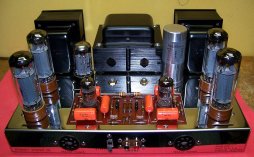 The photo above is one of my
Dynaco ST-70 tube amplifiers
I use on a daily basis
connected to a pair Dynaco
A-25 speakers.

Here is a Dynaco I recently
restored for a customer of
mine. The original chassis was
so bad he asked me to replace
the chassis with a new
stainless steel chassis
purchased from
Dynakitparts.com

This website is dedicated to the repair of
the most popular tube amplifier kit ever
produced with over 300,000 sold from 1959
through the early 90's

I have been repairing and restoring all
types of tube Dynaco amps and preamps
like the Dynaco ST-70's, ST-35's, SCA-35,
Mark 2, Mark 3, Mark 4, PAS-2, Pas-3 and
PAS-3x preamplifiers. I can also repair
other manufactures tube audio and tube
radios.

Dynaco ST-70 rebuild Prices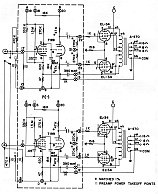 I have rebuilt many Dynaco ST-70 tube amps and was asked if I would
rebuild Dynaco tube amps for others, so I decided to offer my services.

Please click
here
to see a before and after photo of a restoration I
completed for a customer.

I can rebuild your Dynaco ST-70 which includes replacing all of the
coupling, quad electrolytic and bias capacitors for $200.00.

I use high quality Sprague 715P for the coupling capacitors. If you
prefer to upgrade your capacitors with other brands, just ask for
pricing. I will also replace the bias selenium rectifier with a silicon
diode for reliability and replace any out of spec resistors. If your bias
potentiometer is bad, there will be an additional fee of $15.00 to
replace it with a new potentiometer.

I will test your EL34/6CA7 tubes on my Hickok 539B tube tester and
try to match the on the left and right channel and also set the bias to
factory specifications. If any of your 6CA7/EL34's are bad I can replace
them for an additional fee.

I will also test your 7199 tubes and 5AR4 rectifier tube. If any of the
tubes are weak or bad, I can replace them for an additional fee.

I can upgrade your RCA jacks with new gold plated jacks that have a
slight wider spacing for todays modern cables. Please go to my
upgrade page for additional information. Click
here
to see the
upgrades.

I have a full compliment of high quality test equipment to accurately
diagnose any problem with your amp.

My price does not include return shipping. Once your amplifier is
repaired, I will send a email with the total charge including shipping.

Please email me at
s
alb203@optonline.net
for additional information
and prices to repair, restore and upgrade other Dynaco tube related
items. I live in Central New Jersey and drop off and pickups are
always welcome.

Sorry but I cannot service your amp while you wait.

Updated 03/22/2013

Authorized Dynakit Repair Service

Welcome to Dynaco ST-70 Repair, Upgrades and Restoration Services