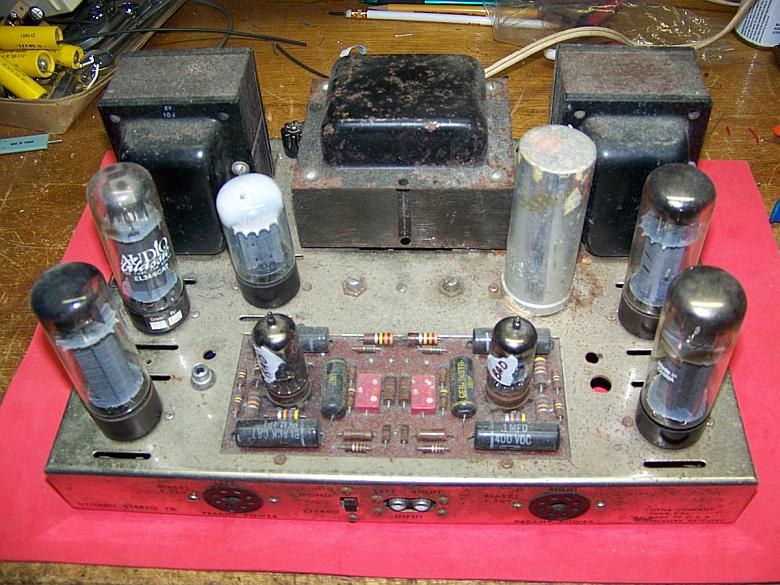 Below is a picture how the amplifier looks like after the restoration. I replaced
the chassis with a new polished stainless steel reproduction chassis from
Dynakitparts.com.
I disconnected and removed the transformers from the old chassis,
removed
the
end bells
,
sanded and gave them 2 coats of Rustoleum black primer and 2
coats of
Rustoleum semi-gloss black paint. I also did the same procedure to the
transformer cores. I then reassembled them and mounted the transformers to
the new polished stainless steel reproduction chassis that will never pit and rust.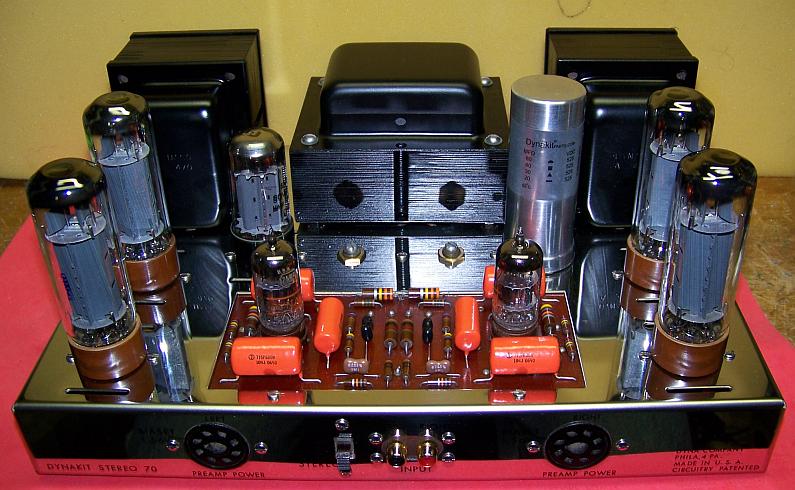 I thoroughly cleaned the original printed circuit board and replaced
every capacitor on it with new quality parts. I also replaced the original
RCA jacks in the front with new gold plated jacks that are slightly
furthur apart from the original jacks to allow newer
RCA cables to fit
and used new stainless steel screws to mount everything on the chassis.
I also replaced the quad electrolytic power supply capacitor with a
new manufactured replacement that has more capacitance.
I replaced the original 2 wire line cord with a new 3 wire line cord and
also replaced the original speaker terminals with new ones.
I also restore Dynaco ST-35, Mark 2, Mark 3, Mark 4
SCA 35 and PAM 1, PAS-2, Pas-3 and Pas-3X preamplifiers.
I can also repair you antique tube radios.
Please email me with any questions you might have so we can
discuss what you want done to your amp and pricing.
My email address is salb203@optonline.net
Home